My top picks for September, that I completly love and probably have a affordable price, so that you have some affordable inspiration. That is why the probably will be from my favorite brands and stores.
So yeah, totally in love with this style. But some just yesterday (you will see them in an upcoming blogpost). Anyways these are so great, most people were them without socks but if you want to go all out and you like it you can also wear really cute socks underneath. These are from AE for 60$, which is a bit to expensive for me to be honest.
This may not be usually my style but somehow I really like this dress. It's really flowly and has a admirable v-neck and a really cute print. I think you could combine this with some fun jewerly and shoes and a simple bun, like in the picture and just make it really casual, fun and special. This is from Lush the 'Kendal' Print Surplice Faux Wrap dress, you can find it at nordstrom for 48$.
Yes, everybody has been wearing these, but yes they are amazing. They can make a simple outfit look cool and they fit with most of your clothing. Very useful, especially for school. When you want to look dressed up and cute but don't want to over do it, don't have the time and you want sth comfortable to walk in. These are very cheap from Forever 21 for 19.80$.
Knit sweaters are a must, they are so useful. They are great for layering with flanel and shirts, but also to just cuddle up in the evenings. So many different ways to combine them and they are really cute. This one is from H&M, right now on sale for 15$ and usually 29.95$.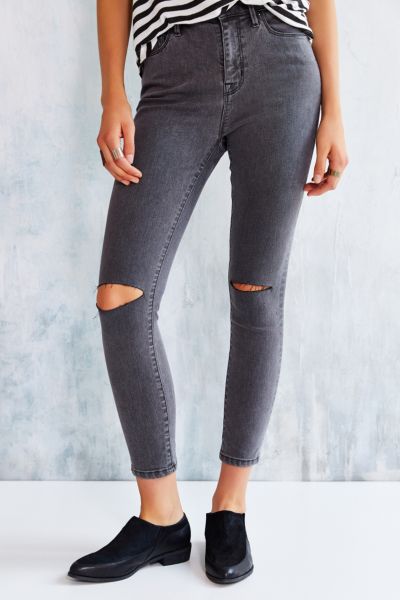 Did somebody say skinny acid destressed jeans? Yes, please! Here they are paired with a simple striped tee. Totally in love <3 They just make a statement with a simple tee or sweater and they are not to destressed, just to simple holes at the knee. It all seems perfect in till you find out they cost 74$ at Urban Outfitters.
I really liked this colorblock mini bag, because it included 3 different colors that fit with fall. Also mini bags are really trendy right now. It looks like someone took a vntage bag and redesigned it in a more modern piece. I think this bag is just really trendy, cute and perfect for fall. It's from Asos for 22.85$, which is luckily really affordable.
Yes, I do like the grungy kind of style. It may not be in my hole closet, but hopefully included. So this mini plaid skirt with zippers is really easy to combine, just with some black booties and a simple color shirt like grey, white or black. Love, love, love ! This is sadly 70$ from Topshop.
And once in a while, we can go back to graphic tees like this one. Its really simple just pair it with a knit cardigan, jeans and sneakers/ booties and you will be ready to go to school. Just think it's a simple cute piece for your closet. It's from dEliA*s for 24.90$.
This is totally me, a pleated strappy top with really flowly top, for some people it may not be to usefull in September. But if you combine it with a really cute knit cardigan, it will look like you took a lot of time on your outfit, when you didn't. It's from the Kendall and Kylie collection for Pacsun for 29.95$.
This is really cute and obviously from the Bethany Mota collection for Aeropostale for 12$. It is easy to combine with almost any simple outfit and just a really adorable accessorie.
Hope you liked this:)
xoxo, Sophia