Do you have a really tight budget and would like to follow the newest trends or just buy what you saw in an expensive store. Here are some tips and tricks. Ofcourse there are always sales or clearance, which you should always look for. But you just can't always find things on sale....
1. Get inspiration


Magazines

They are probably the best inspiration you can get, they can also show how to mix and math certain items and they tell you about the newest trends.







Stores
Instead of buying the expensive designer clothes, you can get inspired by the styles they are presenting or finding a similar item somewhere else. They can give you ideas about which things might fit together or what items that would fit well to the rest of your clothing. Online or in stores, both are a good way to get inspired.
Runway
Here you can really high fashion inspiration, instead of just from stores or magazines. You can see the colors, textures and styles for the upcoming season and get some ideas into how you can mix them into your everyday wardrobe.
2. Make a list with things you need or want for the next season
Then cross out the things you really don't need and the unessecary things. Just narrow it down as much as possible. Example: Do you really need another shirt, do you not have enough?
3. Think of ways to reuse your clothing items
Can you think of new ways to combine shirt or sweater? Example: Putting a sweater over a skirt...it looks amazing, if you do it right and something you might have not expected. There you go a great new outfit. Also sometimes you can take a dress that is really boring and pimp it up with some diy lace detailing or some embroidery.You could also transform boring outfits into trendy ones. Sometimes you just need a staple piece or a new trend to give your boring outfit the extra spice you want.
4. Research and compare prices
I personally love doing this. If I see something totally overpriced, I think of a way to either diy it or look around in stores or online to find something cheaper but still similar.
Example: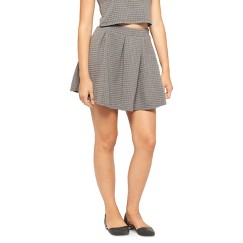 Now these look pretty similar, the one on the right may not have as nice outfit with the actual item (the skirt). But if you just look at the skirt, its actually pretty cute. Now the one on the left is 17$ and is from target (love shopping there) and the right one is 45$ from topshop. Let's say you've been looking for this trend, but your not quite sure if you really like it. The one from target would really be a better choice, especially if you don't have a lot of money and are on a budget.
Hope this helped to all the teens that have the same problem as I do...
xoxo, Sophia