Recently I just discovered this trend. Handbags are shrinking daily. I love the trend, although I think that Mini Bags aren't quite usefull. After all oversized bags are so handy. Still you can incorperate this trend if you dont need much items in your bag for going out or going shopping. Without further, lets find out how to style this trend.
As you can see on this pictures, that Mini bags are mini, they barely can hold your phone, wallet and maybe a lipstick and thats it. Mini bags can be styled lots of different ways, with dresses, pants, skirts and many different colors and variations. I have noticed that they are always more dressed up than down, they are not styled with a simple jeans and tshirt.
Mini bags can be total vintage and neutral. Or completly modern and simple but chic like the small black Celine. Chanel has designed many mini bags, with there simple classic Chanel design in neutral colors .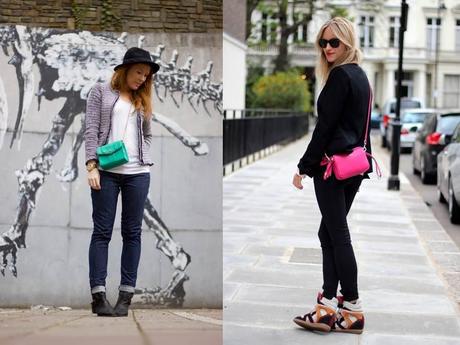 Mini bags can also be bright and colorful and add a pop of color to the outfit, like on the pictures above. Instead of a plain simple outfit, the bag pops out and adds a stylish touch to the outfit.
Here are my Mini bag picks, I choose some affordable ones and some that aren't as affordable and in many different styles. So there is one for everybody.
This is a more affordable one and I really like it. Simple and classy. New Look Mini Camera Bag in Stripe from Asos for 24.75$.


This is a really simple Mini bag and its so classy, its great to combine. Diane von Furstenberg, 440 Lizard Embossed Mini Bag for 295.00$.
This is a vintage neutral inspired one. Very affordable from DSW for only 29.95$. Its called the Kelly&Katie Mini Satchel.
This is my favorite, I love it! It comes in so many different colors, there are so many ways to style it. Rebbeca Minkoff Hudson Mini Moto for 265.00$.
I love this one too, its so colourfull and bright. Asos, Mini Crossbody with Chunky Fitting for 28.95$.
As you can see there are so many different kindes of Mini bags and ways too style them. You can practially buy them anywhere.